Safety first
Achieving Excellence in health and safety is a constant goal
Mersen is committed to developing and consolidating a health and safety culture across the Group through three main tools:
Accountability
Risk Analysis
Continuous Improvement.
The best form of prevention in the field is a constant awareness amongst employees of health and safety issues.
This awareness begins from the moment they become part of our Group when they undertake a mandatory security module. Clear and comprehensible rules are disseminated and explained at length.
These golden rules constitute the backbone of our operations. Developing a strong safety culture and ensuring its employees' protection in terms of health and after retirement are key priorities at Mersen.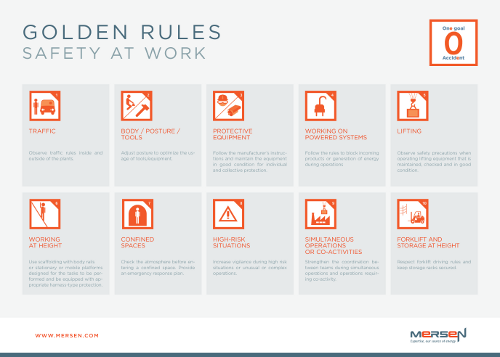 They cover:
Traffic
Body/Posture/Tools
Protective Equipment
Working on Powered systems
Lifting
Working at height
Confined Space
High-risk situations
Simultaneous operations
Forklift and Storage at height
Golden rules in Hindi