Graphilor® bursting discs
GRAPHILOR®, MERSEN'S ISOSTATIC GRAPHITE TO RESIST HIGHLY CORROSIVE APPLICATIONS
Bursting discs are pressure relief devices installed to protect pressurized Equipment.
MERSEN MATERIALS EXPERTISE, ENABLES US TO OFFER A COMPREHENSIVE RANGE OF GRAPHILOR® BURSTING DISCS.
GRAPHILOR®, a resin-impregnated graphite developed and patented by Mersen, is impervious to most corrosive liquids and vapours within its temperature/pressure rating. GRAPHILOR® is a unique material resistant to thermal shocks.
MERSEN'S COMPREHENSIVE RANGE OF BURSTING DISCS
Mersen is recognized as an expert in the design and manufacturing of graphite bursting discs. Our expertise ensures you receive the most suitable bursting discs for your process conditions.
Our wide range of bursting disc designs, including one piece or replaceable membrane, depending on the size and pressure requirements.
All Mersen bursting discs are subject to control and comply with international standards and certification.
Bursting discs range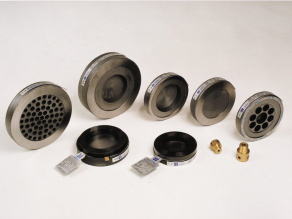 Bursting discs range
Mersen offers a complete range of graphite bursting discs depending of your application, the planned utilization, the operating conditions, etc.
ACE Gebze Office
Gebze Sales Office
G.O.S.B. Ihsan Dede Cad. 900. Sokak
Kocaeli 41480 Gebze
T: +90 262 751 02 62 to 67